Advertise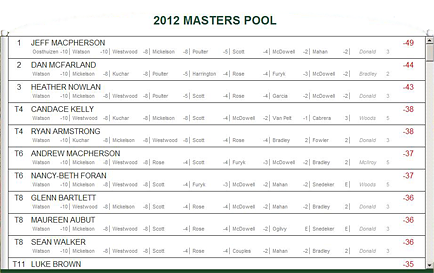 LiveGolfPools.com offers advertisers a unique and effective promotion medium. Years of development and market testing have culminated to yield a superior product design certain to facilitate the highest degree of market penetration of any online golf pool service.
LiveGolfPools.com ensures our advertising partners successfully reach their target audience by employing a complementary combination involving proprietary design features, an unsophisticated format model, and an attention-grabbing dynamic ad presentation functionality. Specifically, LiveGolfPools.com offers:
Authentic real-time leaderboard relating directly to a tournament's live TV broadcast. Our leaderboard looks and acts like a real tournament board, and allows users to instantly relate events of the live TV broadcast to their standing in a pool.
Automatic refreshing of our leaderboards every 60 seconds as a means of enticing users to view the board frequently.
Automatic ad rotation at 10 second intervals, ensuring high levels of exposure throughout the duration of every tournament.
A model of intermittent exclusivity in having only one advertisement display on the leaderboard page at any point in time. Ads are located directly on the leaderboard, in a fixed and highly visible location.
Live hyperlinks for all ads, allowing our advertising partners to control target destinations.
A simplified format based on golfer scores. Competitor sites use golfer earnings as the basis for their rankings, but this offers no easy or clear connection between the live TV action and ones standing in a pool. LiveGolfPools.com uses the actual scores of the golfers, which translates into a far more engaging and exciting user experience, and makes participation easy for anyone.
No player selection restrictions. Many competitor sites involve complicated team selection restrictions, which limits their user base to a more sophisticate end user community. By eliminating all player selection restrictions, LiveGolfPools.com maximizes its potential market, allowing advertisers to reach a much broader audience consisting of both golfers and non-golfers.
Individual tournament pools. The vast majority of online golf pools require involvement in multiple tournaments or an entire golf season. We believe this sort of commitment discourages participation, and so we designed LiveGolfPools.com to host pools on an individual tournament basis.
A completely free service! Some online golf pools involve a prize payout funded by way of an initial pool entry fee, or the establishment of a pre-paid account. Such pools often involve a small number of participants, and may be operating illegally as gambling services; precluding them from advertising interests. At LiveGolfPools.com we believe online pools are primarily a source of entertainment, which is why we chose to employ the more traditional online business model of offering a free service to the public. Anyone can use our site to host their own pool, which is why our user community has grown to establish LiveGolfPools.com as the world-wide leader in online golf pools.
LiveGolfPools.com was created with the hope of supporting the development and sustainability of junior golf programs across the globe, which is why we believe in establishing long-term mutually beneficial relations with all our business partners. Knowing our success depends largely on a shared sense of vision and value, we pledge to foster the spirit of the business relationships we forge by remaining committed to three principal drivers of our business:
Steady growth & retention of our user base
Continuous reinvestment & innovation in our product offering
A long-term commitment to support junior golf programs and initiatives
By combining the above marketing strategies and business principles with our unique product offering, organizations that choose to advertise on LiveGolfPools.com enjoy real value for their investment dollar.


Start a Pool

LiveGolfPools.com is an open site which allows anyone to host their own golf pool. Sign-up today to enjoy a pool among friends, host a charity fundraiser, or promote your business through innovative marketing strategies.
Fundraising

Golf is popular world-wide, and hosting a pool using our site couldn't be easier; making LiveGolfPools.com an excellent choice for almost any fundraising initiative. Check out our many ideas on how to help you advance your cause.