Learn more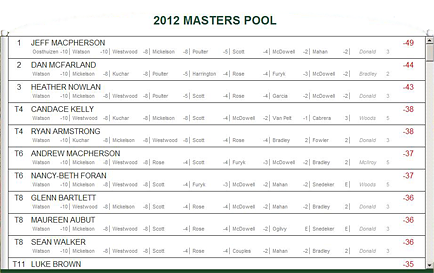 WHAT IS LiveGolfPools.com?
LiveGolfPools.com is a free online service which allows users to host their own golf pool, or join one being hosted by someone else.
As the internet's premium online golf pool, LiveGolfPools.com offers:
Authentic real-time leaderboards, with pool standings relating directly to a tournament's live TV broadcast.
Authentic leaderboards for the four majors that mimic the actual tournament leaderboards.
Automatically refreshing leaderboards
A simplified format based on golfer scores, vs. competitor sites that use golfer earnings as the basis for their rankings.
No player selection restrictions - pick any combination of golfers you wish!
Individual tournament pools. No requirement to partake in multiple tournaments or an entire golf season.
WHAT SETS LiveGolfPools.com APART FROM OTHER POOLS?
LiveGolfPools.com has become the world's premium online golf pool for four simple reasons:
Golfer scores are used as the basis of our format - not money winnings, which makes LiveGolfPools.coPm the only real-time golf pool relating directly to the live TV broadcast!
No restrictions are placed on player selections- pick any twelve golfers you wish!
Most other pools are based on an entire season of tournaments, requiring a regular and lengthy time commitment. At LiveGolfPools.com our pools are based on a single tournament, making the fun and excitement occur a week at a time.
Our competitors present their pool results in unattractive grids of data. At LiveGolfPools.com we wanted to create the most authentic user experience possible, which led us to develop the only online leaderboard that looks and acts like a real tournament leaderboard!
WHAT IS THE POOL FORMAT?
All pools follow the same easy format:
You choose any twelve golfers participating in the tournament for which the pool is being hosted;
Of those twelve, the scores of your best eight are added together to compile your team score;
If you have less than eight golfers make the cut, the 'Out of Bounds' rule will apply to ensure you remain active and competitive in the pool.


(The 'Out of Bounds Rule' involves the system automatically adding the required number of 'OB Stand-in' golfers to a team to ensure every pool participant has eight active golfers following the cut. As a penalty for needing any additional golfers, 'OB Stand-in' golfers are assigned a score of two strokes greater than a golfer who made the cut, but finished last at the end of the tournament's final round. For example - assume Tiger Woods is not one of your 12 picks, and assume Tiger makes the cut, but finishes tied with two other golfers for last place at the end of Sunday's round, with a score of +9 for the tournament. A participant in the pool, who has only 6 of his/her 12 players make the cut, would be assigned two 'OB Stand-in' golfers, each posting a score of +11. For those participants who did choose Tiger as one of their 12 picks, they would receive Tiger's actual score of +9).
WHAT GOLF TOURNAMENTS ARE AVAILABLE?
The four majors (The Masters, US Open, British Open and the PGA Championship) are currently available, with plans to soon offer weekly pools in accordance with PGA Tour and European Tour tournament schedules.
HOW DO I GET STARTED?
To host or join a pool, you must first Sign Up, a process which takes less than one minute.
HOW DO I HOST MY OWN POOL?
Hosting a pool is an easy one step process, which takes less than one minute to complete. Login and click on the Start a Pool link. Choose the golf tournament for which you wish to host a pool, give your pool a name, and you're done. An automated invitation process is also available - simply enter the e-mail addresses of those you wish to invite to your pool and the system will automatically send them a direct link, as well as the required passcode to join.
HOW DO I JOIN A POOL HOSTED BY SOMEONE ELSE?
To join a pool, simply Login, click on the 'Join a Pool' menu option, and enter the 'Pool Passcode' provided to you by the pool host.
ONCE I'VE JOINED A POOL, HOW DO I SELECT MY TEAM?
Choose your team of twelve golfers from the tournament players list located on the 'My Teams' page. Once you've chosen your players, simply wait for the tournament to begin. (*NOTE: Team selection closes approximately 15 minutes before the start of the tournament's first round. A countdown timer is provided on the 'My Teams' page to advise of the time remaining to choose or modify your team).
HOW DO I CHANGE MY TEAM PICKS?
While team selection remains open, you can return to the 'My Teams' page at any time to edit your team picks.
WHAT HAPPENS IF A GOLFER WITHDRAWS PRIOR TO THE START OF THE TOURNAMENT?
It is ultimately the responsibility of each pool participant to manage their own player selections. Participants are reminded, however, that our format of counting only the 'Best 8 of 12' helps make player withdrawals less of an issue. In the near future LiveGolfPools.com hopes to enhance the user experience by including an automated notification service, which would communicate player changes to those users affected.
WHAT HAPPENS IF ONE OF MY TEAM PICKS WITHDRAWS FROM THE TOURNAMENT (OR DOES NOT FINISH) AFTER THE TOURNAMENT STARTS?
The 'Out of Bounds' rule will apply. Refer to the 'What is the Pool Format' section above.
WHAT HAPPENS IF A TOURNAMENT IS SHORTENED OR DELAYED?
Since pools are based on real golf tournaments, they proceed and conclude just as the real tournament does.
POOL ENTRY FEES AND DISTRIBUTION OF PRIZES?
LiveGolfPools.com is a free online service, which simply facilitates the hosting of online golf pools for public entertainment and enjoyment. Collection of any pool entry fees, or distribution of any prizes related to a pool, is strictly between a pool host and those individuals participating in his/her pool! LiveGolfPools.com is not responsible for any monetary gains or losses resulting from use of the site.
WHY WAS LiveGolfPools.com CREATED?
The primary goal of LiveGolfPools.com is to directly support local junior golf programs and initiatives around the world as a means of increasing the number of opportunities children have to experience the joy of playing golf. To achieve this, we have two plans:
Work with as many golf clubs as we possibly can to help them utilize our site to raise funds for their junior golf program.
Donate a portion of all proceeds generated through site sponsorships directly to local and regional junior golf initiatives.
NOW THAT I AM HOSTING A POOL, HOW DO I USE IT TO FUNDRAISE?
Visit our 'Fundraising' page for examples of how to use LiveGolfPools.com to raise money for your cause.
Start a Pool

LiveGolfPools.com is an open site which allows anyone to host their own golf pool. Sign-up today to enjoy a pool among friends, host a charity fundraiser, or promote your business through innovative marketing strategies.
Fundraising

Golf is popular world-wide, and hosting a pool using our site couldn't be easier; making LiveGolfPools.com an excellent choice for almost any fundraising initiative. Check out our many ideas on how to help you advance your cause.